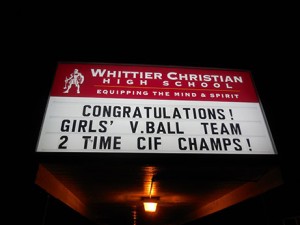 By Eric Terrazas
Staff Writer
ORANGE – The Whittier Christian High School girls' volleyball team successfully defended its CIF-Southern Section Division 2A crown on Saturday, Nov. 23 by sweeping Mayfield 25-19, 25-19, 25-19 at Santiago Canyon College in Orange.
The Heralds (33-6), after capturing their second consecutive CIF-SS divisional title, will direct their focus on the CIF State Division II Tournament. Fourth-seeded Whittier Christian will host No. 5 seeded La Costa Canyon (25-9) in an opening-round match scheduled for 7 p.m. on Tuesday, Nov. 26, 2013.
Heralds coach Shawn Hunter expressed happiness about his team's achievements during the 2013 season.
"It was a lot of fun," Hunter said. "It's great to play at a high level. We're excited to see what we could do in the state championships. I'm really proud of my players and their accomplishments this year."
The senior trio of Kylee Wolfe, Deanna Blaine and Stephanie Stevenson starred in the Heralds' triumph over Mayfield. Wolfe recorded a team-high 15 kills while Blaine and Stevenson added 13 and 12 kills respectively.
La Costa Canyon finished as the runner-up in the CIF-San Diego Section's Open Division. The winner of tonight's game will face either Santiago or Taft in a second-round game scheduled for Saturday, Nov. 30.
@411whittierspts