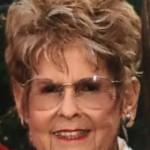 Sally Jo Martin, 79, passed away peacefully at her home on Wednesday, February 14, 2018 (Valentine's Day) with her loving husband, Bruce, by her side. Born in Los Angeles on January 14, 1939, Sally was born to her parents, James Albert Gafford and Estalene Mae (Bailey) Gafford. Sally married the love of her life, Bruce G. Martin, on August 20, 1960 and they lived a wonderful and fulfilling life together. Sally's life leaves a deep and meaningful impression on an inestimable number of lives.
In her early years, Sally grew up in Huntington Park. She graduated from Huntington Park High School in 1957. In the fall of 1957, Sally moved to Whittier to live with her extended family, the Whites, to attend Whittier College. In her first semester, she met and fell in love with Bruce. In an attempt to encourage the young couple, Sally's uncle, Roland White, gave Bruce two tickets for the USC vs. Pittsburgh game to take Sally. This would be their first date. On March 21, 1960, they were engaged to be married while dining at their favorite restaurant, The El Cholo Mexican Restaurant in Los Angeles on Western Avenue, and they were married later that year on August 20.
Sally was an elementary teacher by trade. She taught for a few years at Santa Anita Elementary School in Arcadia. She loved what she did; impacting the young lives of her students. All this changed, however, when their daughter, Patricia "Pepper", was born in 1969. Sally began working less so she could take part in the joys of motherhood. While her love as a wife and mother was indisputable, Sally's family would say that her love for her animals was almost indistinguishable at times. Sally loved animals deeply. From attending animal shows to caring for her beloved pets, such as "Pugsley" the family pug, she had a special place in her heart for her critters. "She was the kind of person who made food from scratch for her pets," said affectionately by her son-in-law, Morgan. The household joke among Bruce and Pepper was that the pets had better insurance than the rest of the household.
Among Sally's many passions in life was her support for sight-related support organizations. Through her training as a teacher, she knew the importance of learning and gaining an education; all of which hinge on one's ability to see & read. This passion also propelled her to support Bruce's involvement in the Whittier Host Lions Club, a club that, among other activities, provides eyeglasses and sight exams to people at no cost. Sally's interests didn't stop there; she and Bruce were premier organizers in establishing the Ruth B. Shannon Center for the Performing Arts at Whittier College. Sally's signature trait was that she always gave of herself to serve others. She was always more concerned about the needs of others than her own.
Sally was a strong woman with impeccable character. She faced many trials throughout her life which caused her to be a more formidable woman. Her greatest trial was in the loss of her daughter, Pepper, in 2015. This loss caused deep pain, yet, did not vanquish her spirit, for she still saw opportunity to serve in the lives of her granddaughters as they grieved the loss of their mother. This world has only seen few women of such noble character and strength as Sally Martin.
Sally is survived by her loving husband, Bruce; her son-in-law, Morgan along with his fiancée, Ms. Shelli Catone; and granddaughters, Lauren Elizabeth Blais and Emma Renée Blais. She is now reunited with her beloved daughter, Pepper.
A Celebration of Life will be held in Sally's honor on Saturday, February 24, 2018 at 10am at the Whittier DoubleTree Hotel, 7320 Greenleaf Ave., Whittier. A reception luncheon will immediately follow the celebration service at the hotel.