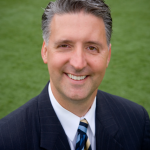 By Brad Dacus
Dear Friends of Children's Privacy,
With your help, we at Pacific Justice Institute have been able to defend vulnerable children, and their need for privacy at school. We are currently in the middle of a fight against the Co-ed Bathroom/Locker Room Bill in California. We also recently defended young teenage girls in Colorado who had a biological male student using their school's girls' bathroom. (If you haven't watched the video about it, I'd encourage you to do so by clicking here.)
I'm excited to announce that due to our involvement in this issue of children's privacy, I was asked to sit down with the national CBS Sunday Morning show for an interview on Sunday, June 8. My interview will air on their show. You can check your local listings to see what time the show will air in your city. I hope you are able to watch it!
During the interview, I made it clear a number of times that there needs to be love and compassion for those who deal with gender identity issues. But I also pointed out the importance of having privacy for all students. In our ever-changing world, it's important that we each stand for truth and moral principles, but that we do it with love. Our children, and everyone's children, deserve nothing less.
Running the race,
Brad Dacus is president of Pacific Justice Institute