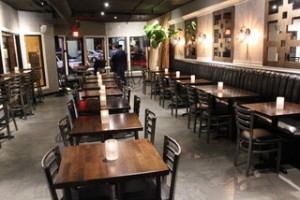 Filo and Steve Hernandez have been married for 35 years. They recently reopened Steve's BBQ in Uptown Whittier after orchestrating a complete makeover to the longstanding Louisiana-style rib eatery.
Biker-bar reputation a thing of the past
By Tim Traeger
Editor
411whittier.com
WHITTIER – There was a time when a trip to Steve's BBQ in Uptown Whittier was a perilous journey.
The place used to be rife with Mongol biker gangsters and people who would get drunk, loud and unruly as the clock edged past midnight and the music rose even louder.
That was, used to be.
Now take a look at the longtime eatery at 7007 Greenleaf Ave. If you've been to Steve's before, prepare to be amazed.
Owners Steve Hernandez, his wife Filo (Filomena) and son Josh – with help from interior designer Gabriel Morones – have transformed the place into an upscale eatery, even if those predisposed to stereotypes don't easily equate class and family with Louisiana-style ribs.
Steve, 55, who began his career bussing tables in Montebello at the ripe age of 16, recently invested a large chunk of change to give his restaurant a completely new look. Following a six-week renovation, the place that formerly could pass as a bad bar at best is now a classy establishment in the truest spirit of a revitalized Uptown.
Steve and his staff hosted a reception last week for about 30 people who were equally amazed.
"It's a big deal. It's absolutely gorgeous," espoused Mayor Pro Tem Fernando Dutra. He said Steve's might help transform Uptown into a destination spot, not unlike Old Town Pasadena, Downtown Long Beach or Los Angeles.
"This is a transformation. For the types of businesses we have in Whittier, Steve's provides entertainment that nobody else provides. You combine that with great food and a great atmosphere … and it's going to turn Uptown into a destination. I'm so proud of what he's done and how far he's come. He stuck it out and through perseverance, look what it's gotten him. It's amazing," Dutra said. "I'm shocked at the (ceiling) elevations here. It's beautiful. He's done a great job and I'm proud of him."
Steve's regular Samantha Ridout, past president of the Boys and Girls Club of Whittier, was equally impressed at the restaurant's metamorphosis. For years Steve Hernandez has donated food to the "Ribs for Kids" events and has been a longtime supporter of the club.
"He helped raise money for the organization," Ridout said. "It gave us the opportunity for good community exposure – letting people know who we were. He's always been so generous. He donates to the (BGCW) gala every year. He loves the community. He loves the kids. He's a hard worker and has good ethics. He had troubles in the past with his business years ago, but everything (the city) asked him to do he did.
"He just has a huge heart," Ridout said. "That's the reason why I love supporting him and being his friend, because he's such a wonderful person. I'm so impressed by the work they did. It is good for Uptown Whittier. People are investing in making things better in Uptown. I'm sure his fellow businesspeople are happy he's upgraded."
Steve bought the restaurant in 2002 from his mom, Nancy Lemus. Both are staples in the Whittier Host Lions Club. Before that, Steve and Filo owned The Barbecue House in Montebello. The times have changed, but the food remains the same, albeit on a more focused menu. Patrons can order half and full orders of baby back, spare and beef ribs, ribeye steaks, barbecued chicken, crab legs, oysters, fried and garlic shrimp, chicken tenders, mozzarella sticks and chicken salads. And don't forsake the mashed potatoes, perhaps the best this writer has ever tasted.
Add a full bar that includes delectable cucumber or mango margaritas, peanut butter shots and more than 20 craft and domestic beers, and there's plenty on the menu to please the palate and keep customers coming back for more.
What Steve's offers that many other restaurants don't, however, is live music. From Thursday through Sunday, after 9 p.m., Steve's features rotating bands like the Midnite Cats and Sal's All-Stars, serving up jazz and blues until 2 a.m. Between 10 and 15 different bands appear on Steve's musical menu. The kitchen remains open until 1:30 a.m. for the late-night diner.
Steve's employs about 20 and is open six days a week. On Tuesdays it's open from 5 to 10 p.m., Wednesdays from 5 to 11 p.m. and Thursday through Sunday from 5 p.m. to 2 a.m. with aforementioned live entertainment. The restaurant also caters food for every occasion.
"I'm a 54-year-old guy who happens to enjoy the music they provide. They cater to my particular generation," Dutra said. "It's got high-level food and a loyal customer base. This is how he rewards them, by putting money back into the establishment. Think about it. Steve is taking money out of his own account and investing back in his restaurant and the city. You wouldn't come up with this type of investment unless you believed in the area."
"Our specialty is still barbecue. We've incorporated other dishes to just offer choices like some shrimp and some tacos. It's been a work in progress," Filo said. "We wanted to make this place accommodating, comfortable. We wanted people to come in and not feel like you're in a bar."
And for Steve, it's a love of family that's spurred his restaurant's transformation more than anything else.
"I've been in the restaurant business most of my life, since I was 16," Steve said. "I just wanted to create something where families could come, enjoy their meal and have it cooked for them the way I'd want it cooked for me. So, we try and put that extra love into it – like it was being served for me or other family members. That's how we try and treat our customers. People come here and just want to have a good time."
Call 562-789-0200 or visit www.stevesbarbq.com for the delicious details.
Tim Traeger is former editor of the Whittier Daily News. Reach him at ttraeger@411whittier.com or call 626-646-7352.