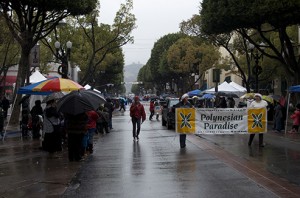 By Sergio Lopez Jr.
Staff Writer
411whittier.com
WHITTIER – Rain beat on windshields and tires slushed through the wet pavement, but the day's less-than-ideal conditions didn't stop thousands of people from coming out to enjoy the 60th Annual Uptown Whittier Christmas Parade.
"It's tradition," said city employee and Whittier High School alum Belin Hernandez. And, in Uptown, there seems to be nothing more important that tradition.
The event, which began at 10 a.m., extended on Greenleaf from Hadley to Mar Vista, where the route then took a left and finally came to an end on Washington Avenue.
Even as the rain persisted, the parade route was tightly lined with spectators who cheered on marching bands, dance and cheer teams, and floats and many more from underneath umbrellas, canopies, trees and sunshades.
"We've been coming for years," said Whittier resident Jennifer Wright, who, huddled with her family under Wells Fargo's ATM awnings, cheered on her grandson's Cub Scout troop.
By noon, the parade came to a close and many onlookers soon gathered near Uptown's parking structure to find out which marching bands the judges liked most. Among middle school bands, Dana Middle School took first and among high schools, Santa Fe High took top prize.
Although the weather was gloomy, the parade still attracted a huge crowd, many of whom expressed their joy with smiles and laughter. The marchers also made their enjoyment very clear. It was definitely nice to see that so many people didn't let a little rain break one of Whittier's longest-lasting traditions.
Santa Claus again brought up the rear, symbolizing the spirit of Christmas in Whittier.
Sergio Lopez Jr. can be reached at 562-291-9076