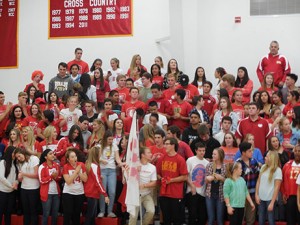 By Eric Terrazas
Staff Writer
LA HABRA – Whittier Christian High School continued its thrilling postseason ride by delivering a 25-22, 21-25, 25-16, 25-15 opening-round victory Tuesday, Nov. 26 over La Costa Canyon in the CIF State Division II playoffs.
The host Heralds (33-6), coming off their second consecutive CIF-SS Division 2A crown, stepped things up in the third and fourth games en route to the win. Up next for fourth-seeded Whittier Christian is a second-round match against top-seeded Santiago High of Corona, which is scheduled for 7 p.m. Saturday, Nov. 30. Santiago (38-0) won its Tuesday first-round match against Taft of Woodland Hills, 25-13, 25-18, 25-10.
Senior outside hitter Deanna Blaine led the Heralds attack by recording 20 kills. Outside hitter Kylee Wolfe and middle blocker Stephanie Stevenson, both seniors, also played major roles by posting 15 and 10 kills, respectively.
Brittany Abercrombie made 18 kills to pace No. 5 seeded La Costa Canyon, which finished its season at 25-10.
Heralds head coach Shawn Hunter praised his team's effort.
"I definitely thought we needed to be aware of their opposite (hitters)," Hunter said. "We wanted to shift away from them as much as possible. We did a good job of controlling the contact.
"We felt we let up a little bit (in the second game). We played better in the third and fourth (sets)."
After splitting their first two games against the Mavericks, the Heralds seized control during the third and fourth sets.
The Heralds, trailing 10-9 in the third game, recaptured the advantage by scoring five unanswered points. Three of those winners came on kills by Blaine.
After Abercrombie's kill reduced Whittier Christian's lead to 16-13, the Heralds grabbed mometum and went on a 9-3 surge to capture the third game.
Whittier Christian kept up the pressure on the Mavericks during the fourth game. The Heralds, leading 7-5, pulled away by going on a decisive 18-10 run. Stevenson's kill provided the match-winning point for the Heralds.
Heralds senior setter Jennifer Washle recorded 47 assists and 12 digs. Wolfe and senior libero Nicole Santos each added 14 and 10 digs, respectively.
@411whittierspts